The Power of Grant Writing: Recognizing LaKeesha Morris-Moreau for Her Outstanding Work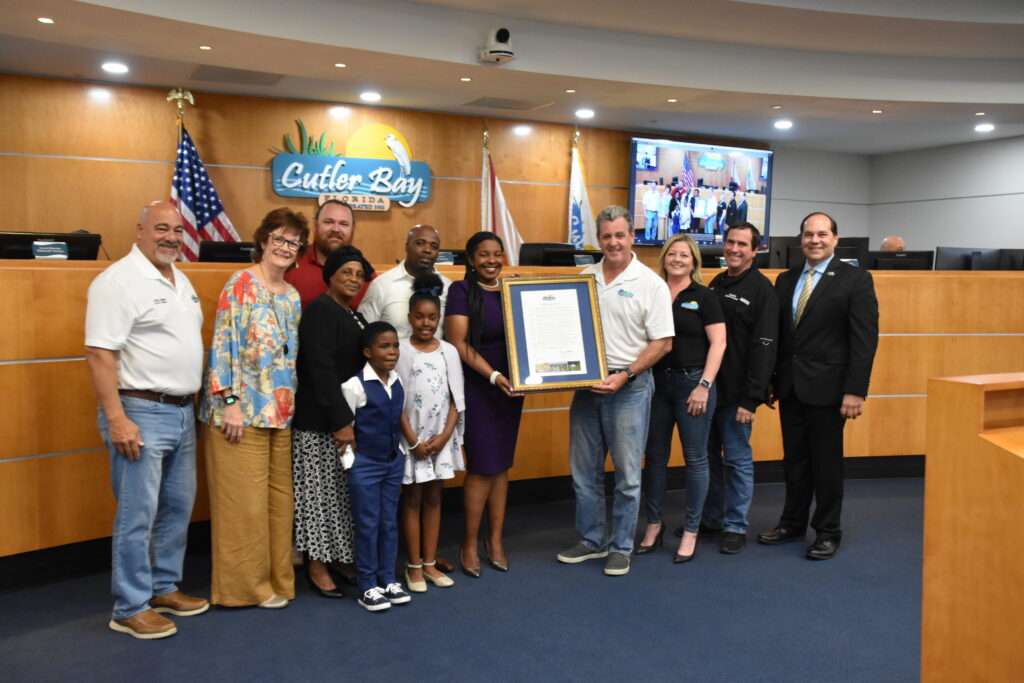 We are delighted to share that our CEO, LaKeesha Morris-Moreau, has been proclaimed and recognized by the Town of Cutler Bay on Grant Professional's Day for her outstanding work as a grant writer. She received an honor and a certificate of appreciation for her outstanding community contribution as a grant writer.
Grant writing is a necessary skill for every organization looking for money for its projects. It involves developing a compelling proposal that successfully communicates to potential funders the organization's mission, goals, and intentions. A well-written grant request can considerably boost an organization's chances of receiving financing for its project.
LaKeesha's achievement demonstrates the value of working with a qualified grant writer to help you win grants. Her passion and hard work have supported countless organizations in winning grants, allowing them to contribute and make a huge difference in the communities they serve.
During the event, Rafael Casals, Town Manager of Cutler Bay said "LaKeesha knows every single masterplan and is very successful in obtaining tens of millions of dollars, which LaKeesha does behind the scenes." The Town of Cutler Bay recognizes the value of a grant writer, and other cities are asking if they can hire LaKeesha to secure grants on their behalf. Her experience and passion have helped secure funds for a variety of projects, allowing each of our partner communities to make a positive difference in the lives of their citizens.
Here is the content of the whole proclamation given to LaKeesha:
WHEREAS, International Grant Professionals Day, March 10, 2023, is a global celebration to recognize and show appreciation to all grant professionals who seek, award, and implement grant-funded projects; and
WHEREAS, the Town of Cutler Bay (the "Town") wishes to honor Mrs. LaKeesha Morris-Moreau for her distinguished career as the Town's grant coordinator of six (6) years, now the Town's continuing grant writing consultant; and
WHEREAS, a considerable amount of time, effort, and knowledge is involved in creating successful grant applications; Mrs. Morris-Moreau's detail-oriented approach with creative yet practical thinking, impeccable organizational skills, and her vast industry knowledge contribute to her reliability as a consistent grant award winner; and
WHEREAS, Mrs. Morris-Moreau has more than twenty (20) years of experience in securing government, corporate and foundation grants; and
WHEREAS, obtaining her master's degree in social work with additional courses in industrial/organizational psychology and social service administration helps bring a human aspect to Mrs. Morris-Moreau's evocative grant writing by giving her the ability to see proposals from the community perspective;
WHEREAS, in 2016, she was one of the first in Miami-Dade County to become Grant Professional Certified (GPC), a credential administered by the highly regarded Grant Professional Certification Institute; and
WHEREAS, her dedication to elevate the grant profession has led her to become a member of the Grant Professional Certification Institute Board of Directors, and
WHEREAS, it is Mrs. Morris-Moreau's innate ability to be able to connect the dots between community need, grant activities, and measurable outcomes that create a substantial impact; and
WHEREAS, with a history of successfully delivering results, Mrs. Morris-Moreau has been a fundamental part in effectively securing, to date, over ten million dollars' worth of grant funding for the Town's parks, infrastructure, cultural affairs, economic development, and environment, and
WHEREAS, the Town Council asserts the well-being of Cutler Bay depends upon the tenacious efforts of principled achievers like Mrs. Morris-Moreau, whose commitment to the prosperity and success of our community and loyal dedication to enriching the lives of the citizens of the Town is a testament to her character.
NOW, THEREFORE, BE IT RESOLVED, I, Tim Meerbott, Mayor of the Town of Cutler Bay, by virtue of the authority vested in me and on behalf of the Town Council and citizens of Cutler Bay, in recognition of her accomplishments and contributions to the prosperity and welfare of our community, do hereby present this proclamation to:
Mrs. LaKeesha Morris-Moreau
Dated this 22nd day of March 2023
LaborMiami.org presented as preferred workforce and business resource for Greater Miami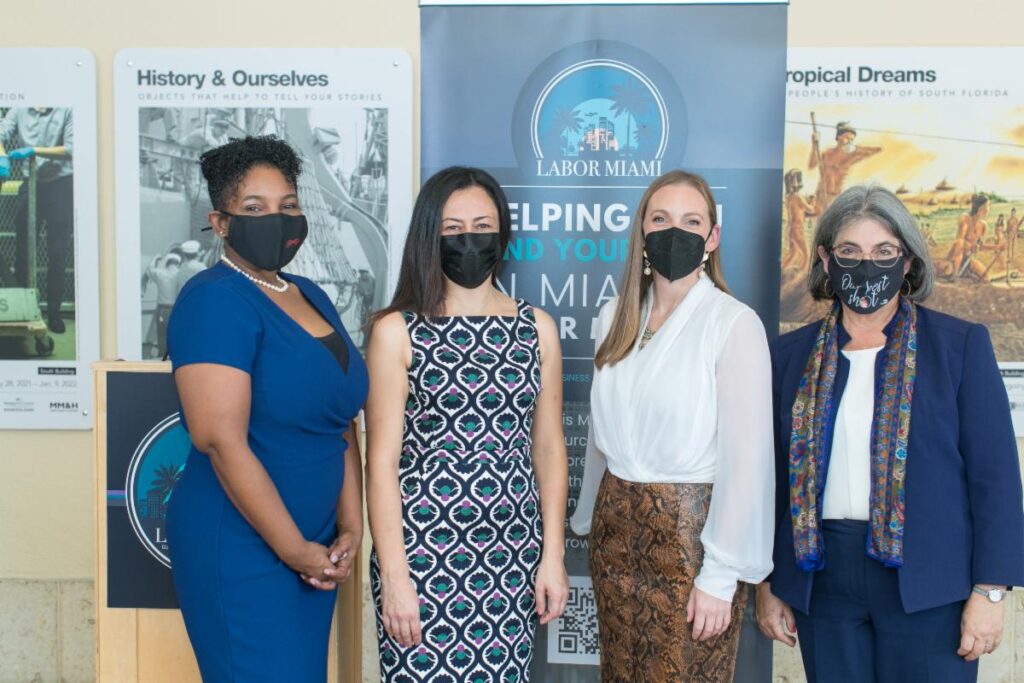 Pictured (l to r): LaKeesha Morris-Moreau, President of BellTower Consulting; Maria Escorcia, Vice President, Program Officer Florida, JPMorgan Chase Foundation; Rebecca Fishman Lipsey, President and CEO, The Miami Foundation; Miami-Dade County Mayor Daniella Levine Cava.
Miami-Dade County Mayor Daniella Levine Cava — to announce a groundbreaking regional partnership. Joining forces in the mission for an inclusive, thriving local economy, we are excited to announce a regional partnership between Miami-Dade County and the City of Miami, formally presenting 
LaborMiami.org
 as the preferred workforce and business resource for all of Miami. 
Through this newly forged partnership, 
LaborMiami.org
 will serve as the premier career development resource for Greater Miami, providing students, job seekers, entrepreneurs, and employers with free access to the tools, training, and information they need to build successful careers in industries that are powering Miami's growing economy. The partnership will see regional presentation of the portal, increased visibility, and will ultimately lead more residents to leverage these available workforce resources.
"
LaborMiami.org
 

brings together dozens of community resources into a single space, to help all Miamians find their pathway to economic success," said

 
The Miami Foundation
 

CEO Rebecca Fishman Lipsey. "By providing both user-friendly labor market data, and access to critical wrap around services, we're committed to building a Miami that works for everyone."