North Bay Village awarded largest one-year amount in grant money from FIND for two new projects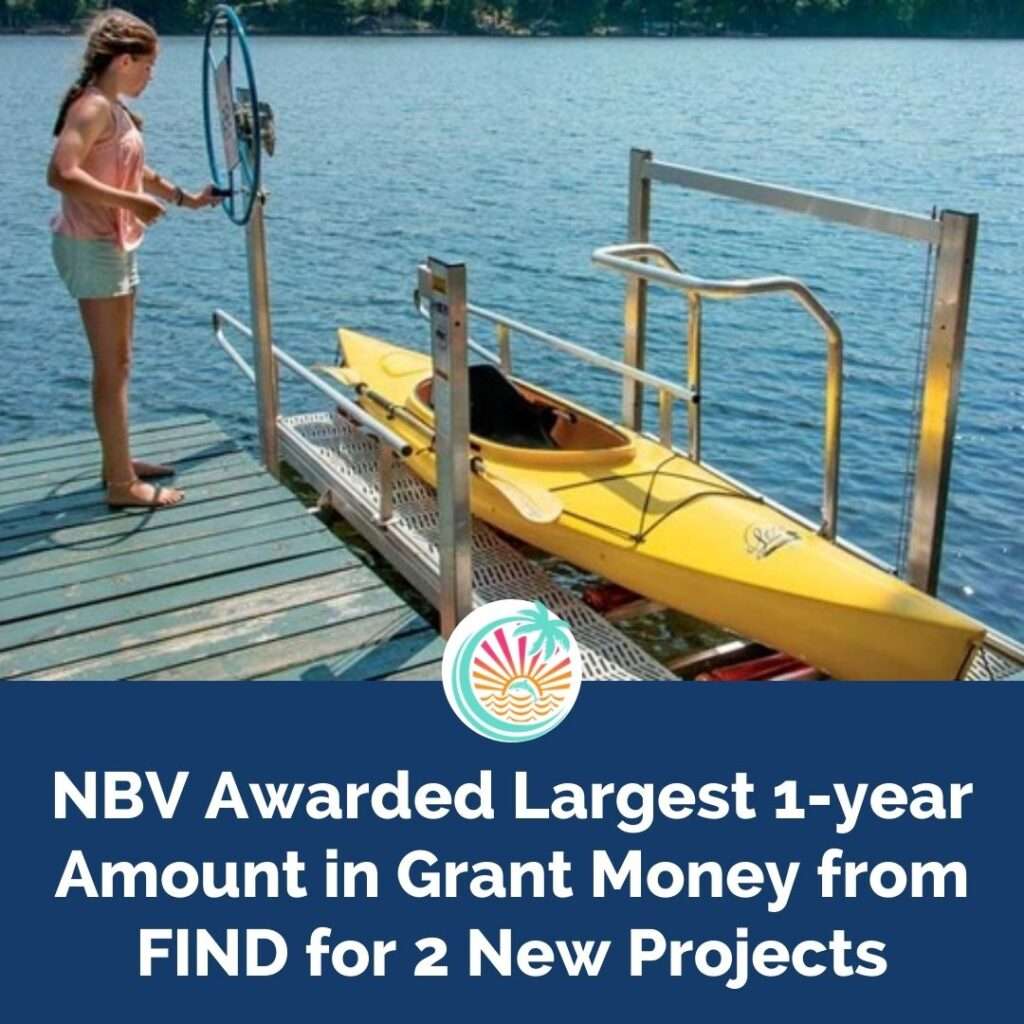 Residents in the Village will soon be able to easily access the Bay with the first public water access project in North Bay Village history.
Over the weekend, the Village was awarded $1.55 million dollars by the Florida Inland Navigation District for two new projects.
This combined total in FIND grants represents the largest one-year amount awarded by FIND for North Bay Village.
$1.25 million was awarded for construction of the Island Walk North Plaza, the public area at the base of the northern side of the bridge that connects the Village and Miami Beach.
The walkway will include seating along the water, trash cans, lighting, signage, safety fencing, landscaping and a welcome sign for both residents and visitors.
$300,000 has been awarded for the construction of the Vogel Park Marine facility. This will bring a kayak launch using a mechanical lever system that will lower the kayak into the water behind the park.
This project is the first of its kind in the Village! Residents will be able to have access to the water from public property for the first time.
The project has previously been awarded a FIND grant for design and permitting, in addition to a Florida Recreational Development Assistance Program grant for design, permitting and construction.
Both projects will begin construction and be completed in 2023.
Thank you to the North Bay Village Commission and residents for supporting our waterfront projects. Special thanks to Vice Mayor Marvin Wilmoth who has presented the Village's projects at four consecutive FIND Board annual grant scoring meetings and thank you to Miami-Dade FIND Board member Spencer Crowley.
This is an exciting time for NBV!
Over $5 Million in State Funding for NBV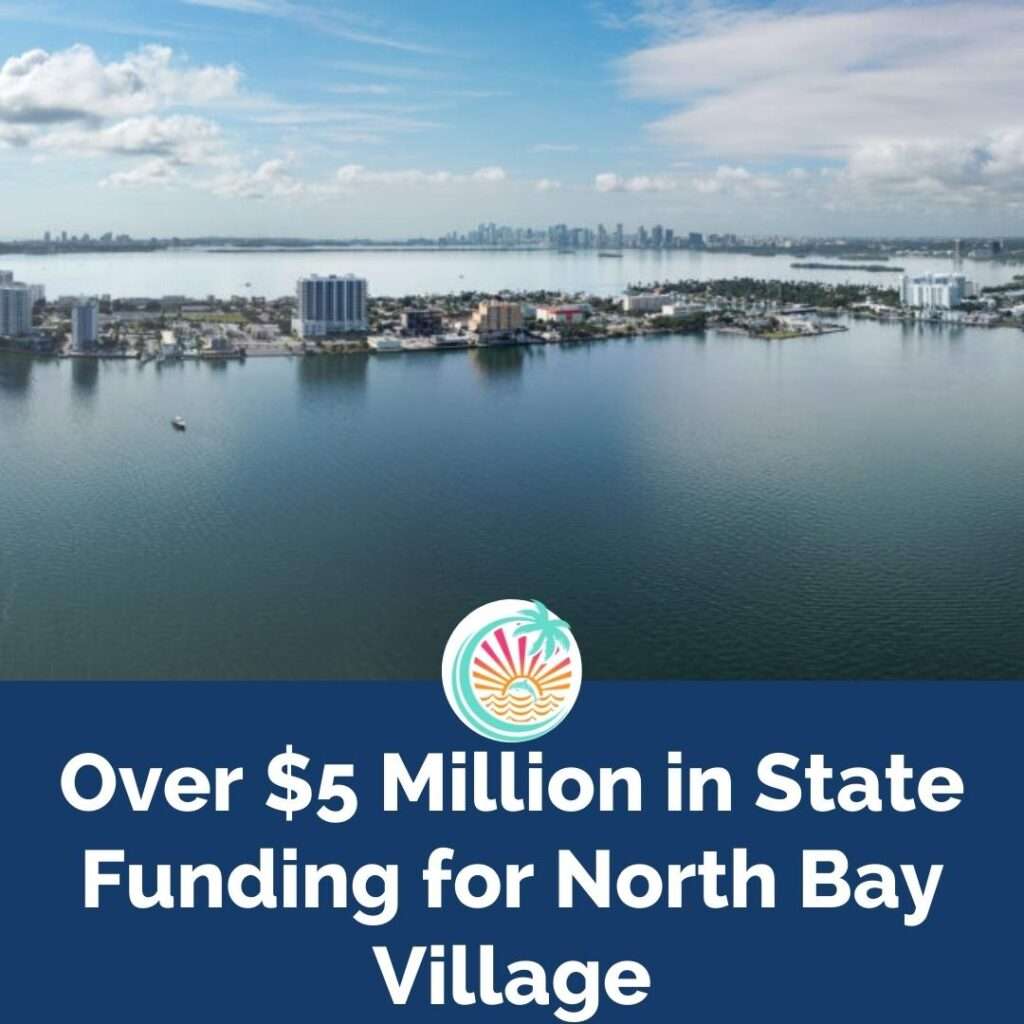 We are pleased to share that Governor DeSantis has approved the Village's two State appropriations, totaling $650,000:
1. North Bay Village Stormwater Inlet Filter Installation – $150,000
2. North Bay Village Wastewater Pump Station Improvements – $500,000
This is in addition to grant funding we recently received from the Florida Department of Environmental Protection, including:
1. Island Walk Seawall Coastal Resiliency – $3,000,000
2. Stormwater Collection System – $2,100,000
3. Stormwater Master Plan – Vulnerability Assessment and Adaptation Plan – $150,000
This makes this the MOST successful year in Village history in terms of State appropriations AND State grant funding with a total award amount of $5.9 million. We could not have accomplished this incredible feat without the support of our Commission: Mayor Latham, Vice Mayor Wilmoth, Commissioner Dr. Chervony, Commissioner Streitfeld, and Commissioner Strout; our Commission has advocated passionately for our projects in Tallahassee.
We would like to thank Governor DeSantis for his support; Senator Pizzo and Representative Grieco for sponsoring and championing our items; Village Public Works Director Marlon Lobban and Grant Writer LaKeesha Morris-Moreau for their help securing the grants; and our residents, whose enthusiasm encourages us to strive to be the most resilient, livable, and prosperous community in Florida.
NBV Wins Grant for Coastal Resiliency Project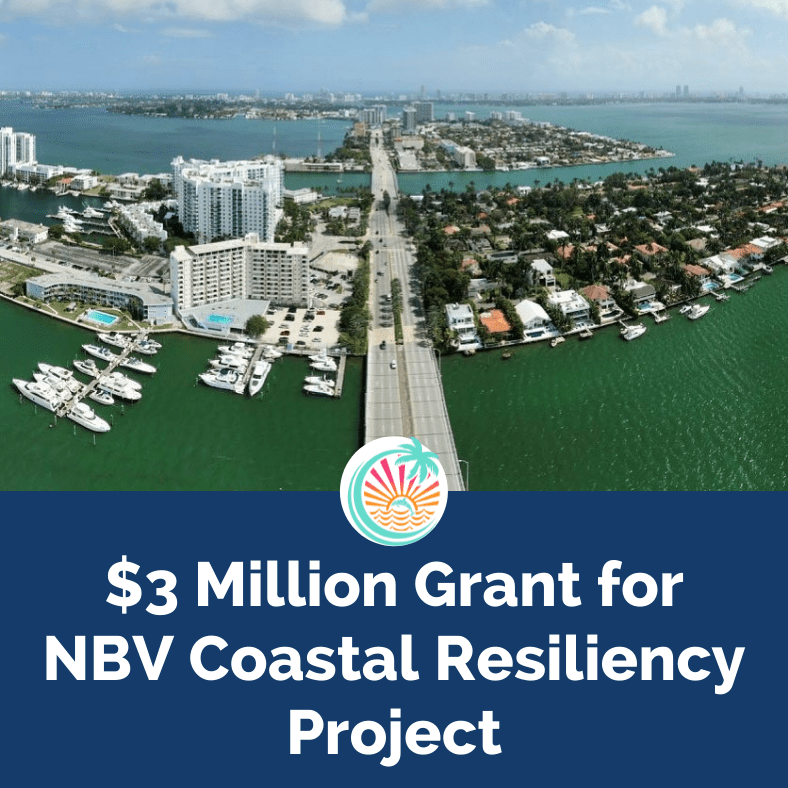 Exciting news!
Today, the Florida Department of Environmental Protection released its Resilient Florida Grant Award recommendations. The Village is being awarded $3 million for our Coastal Resiliency Project (Seawall) thanks to efforts made by our Village Commission, staff, and state representatives.
Funding will be used to raise flood control measures by elevating 4,000 linear feet of seawall where the Village has a public easement. The Village recently modified its building code requiring all seawalls to be installed at the height of 5.94' NAVD. The proposed project reduces flooding along the NE 79th Street/Kennedy Causeway evacuation route and protects an estimated $2.7 million in annual tax revenue.
Neat Streets Miami Awards Street Tree Matching Grant To North Bay Village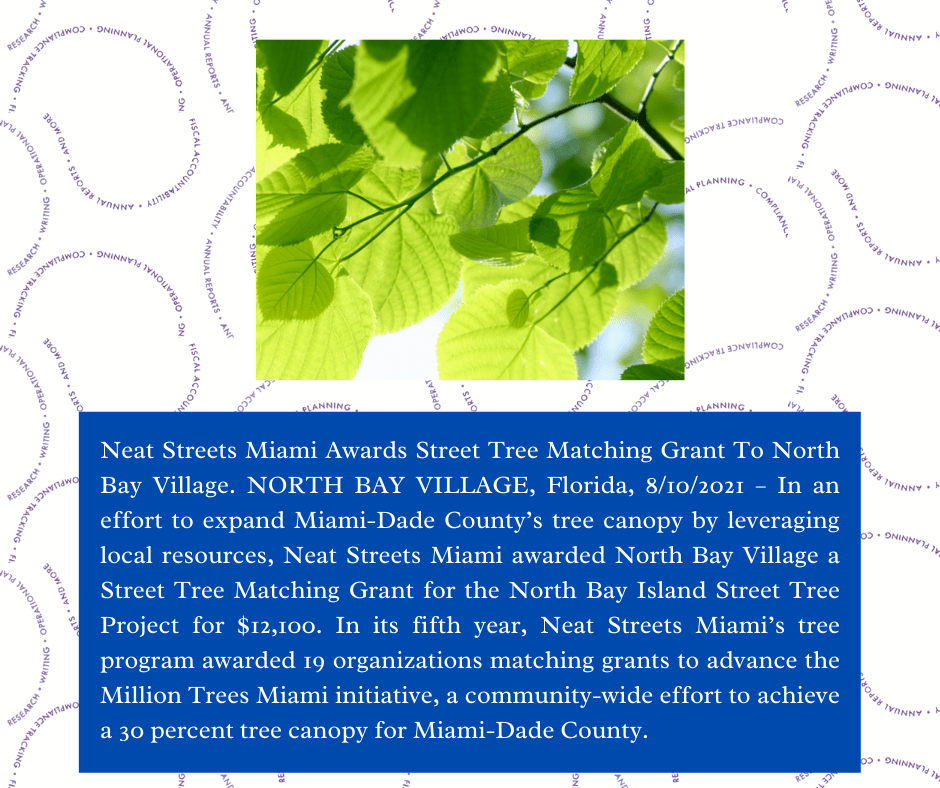 In an effort to expand Miami-Dade County's tree canopy by leveraging local resources, Neat Streets Miami awarded North Bay Village a Street Tree Matching Grant for the North Bay Island Street Tree Project for $12,100. In its fifth year, Neat Streets Miami's tree program awarded 19 organizations matching grants to advance the Million Trees Miami initiative, a community-wide effort to achieve a 30 percent tree canopy for Miami-Dade County.
Mayor Brent Latham stated, "This partnership with Miami-Dade County helps North Bay Village to work towards our goal of building a more livable, resilient city at the heart of Biscayne Bay. Planting dozens of trees city-wide is a long-term investment which will greatly enhance our streetscape as the shade canopy fills out in years to come."
The Village Mayor and Commissioners were very active in advancing this project, going door to door to promote and facilitate tree plantings.
"In our pursuit of greater climate resilience, North Bay Village is proud of our multiyear partnership with Neat Streets Miami," said Vice Mayor Wilmoth. "Our ongoing goal of improving our tree canopy will help reduce peak temperatures and air pollution while providing a habitat for wildlife and enhancing property values."
As part of this project, North Bay Village planted dozens of Florida Native Trees, including Black Ironwoods, Gumbo Limbos, Jamaican Capers, and Silver Buttonwoods to provide shade and beautify the community—consistent with the NBV100 Strategic Plan.
"One of our community outreach activities was 'Love it or Leaf it' in which residents voted for their preferred tree. This project allowed us to engage and educate residents on various native tree species and proper placement. Residents enjoyed playing a part in this project and seeing their vision come to life" stated, Ralph Rosado, Village Manager.
Made possible through the County's Tree Trust Fund, preference in the project was given to areas with low tree canopy and low-to-moderate income populations. The Village desires to increase green space and street trees throughout the community to promote land use, stormwater migration, and healthy lifestyles.
Governor DeSantis Announces More Than $30 Million to Improve Infrastructure, Community Redevelopment and Job Creation in Small and Rural Florida Communities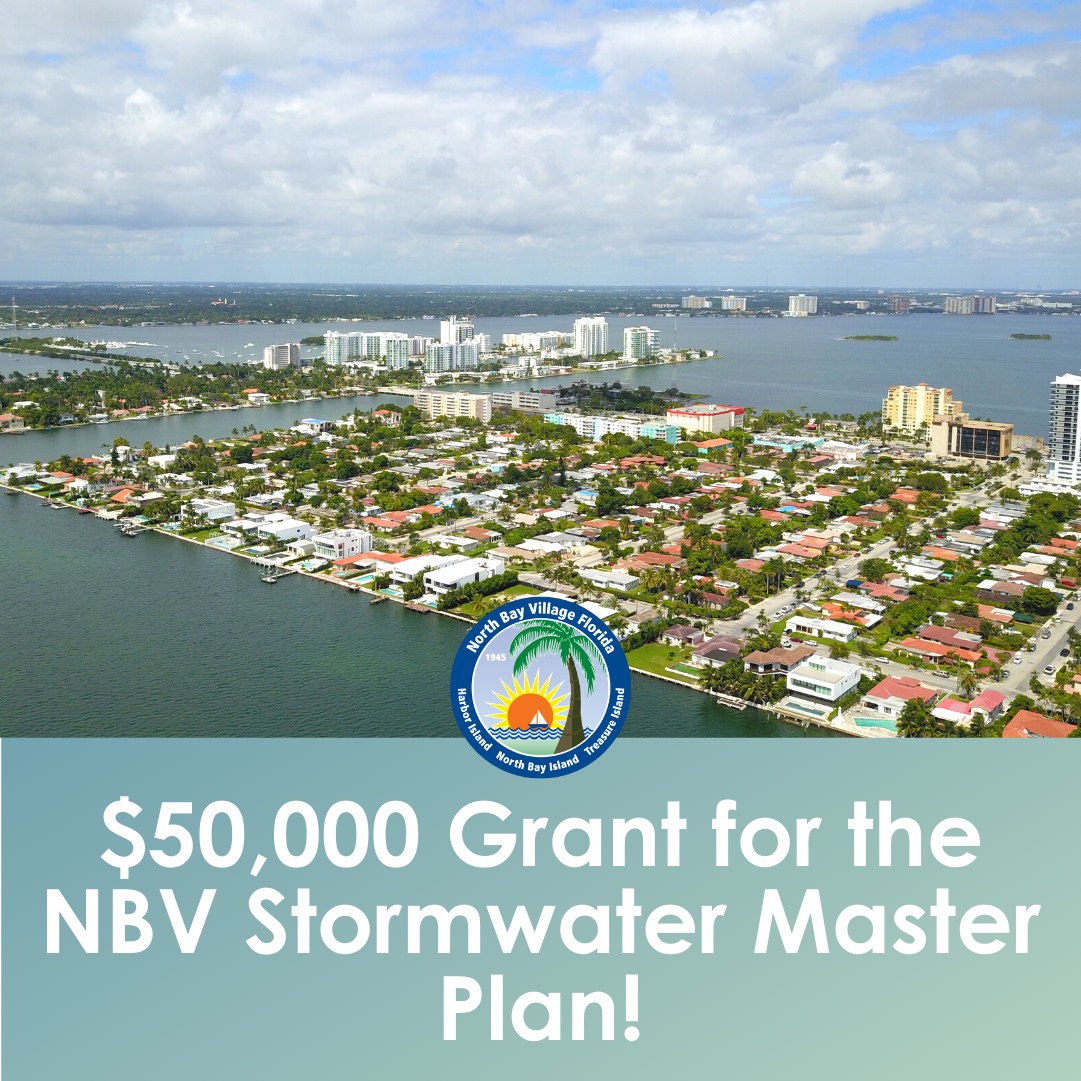 Amazing news! We are excited to announce that NBV was selected to receive a $50,000 grant from the Florida DEO to support our Stormwater Master Plan. This grant will be used to address current and future stormwater infrastructure needs.
Read more here.
Hallandale Beach Receives $14,879,219: The City Will Use The Monies For Sewer System Modernization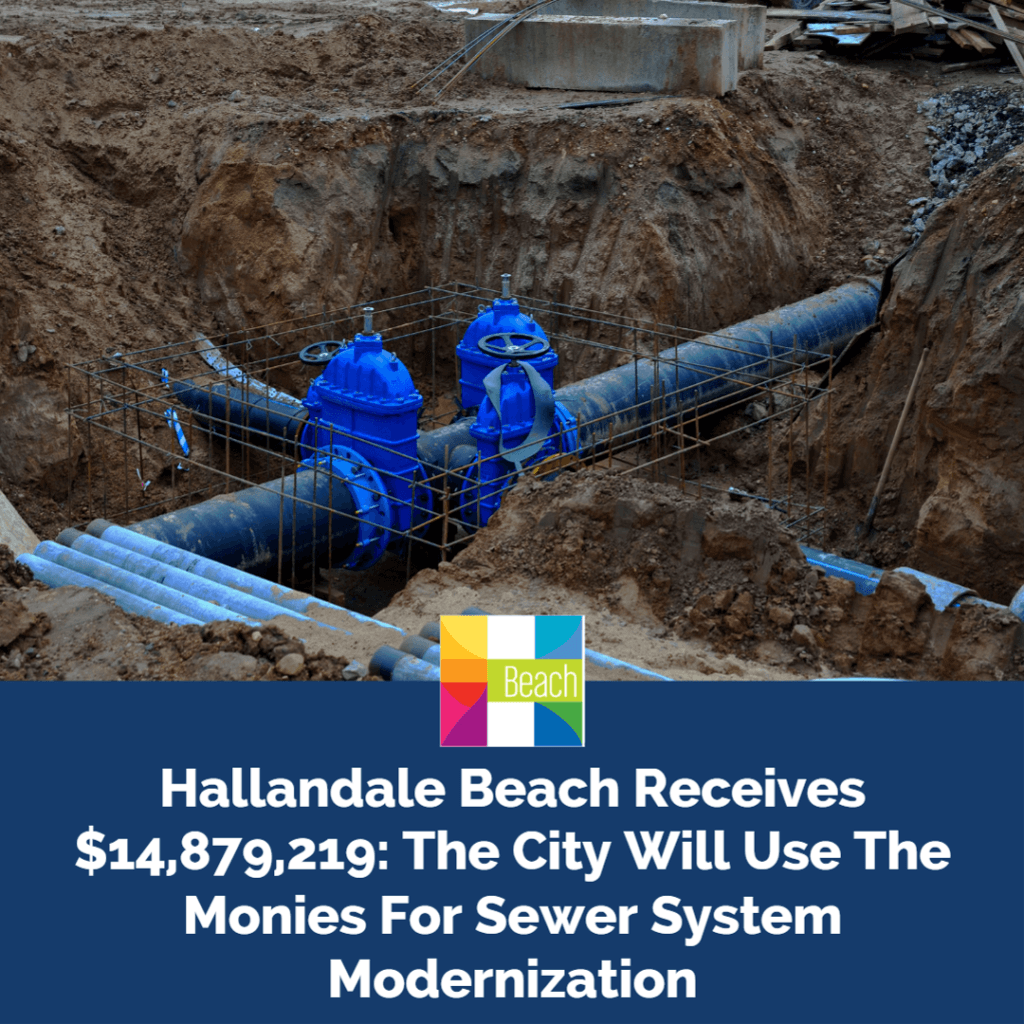 The City of Hallandale Beach received $14,879,219 Million for sewer system modernization. The City of Miami received the 40 shares, but we were the second highest city awarded. Broward County received $18 Million.
$150,000 grant for NBV Stormwater Master Plan from the State of Florida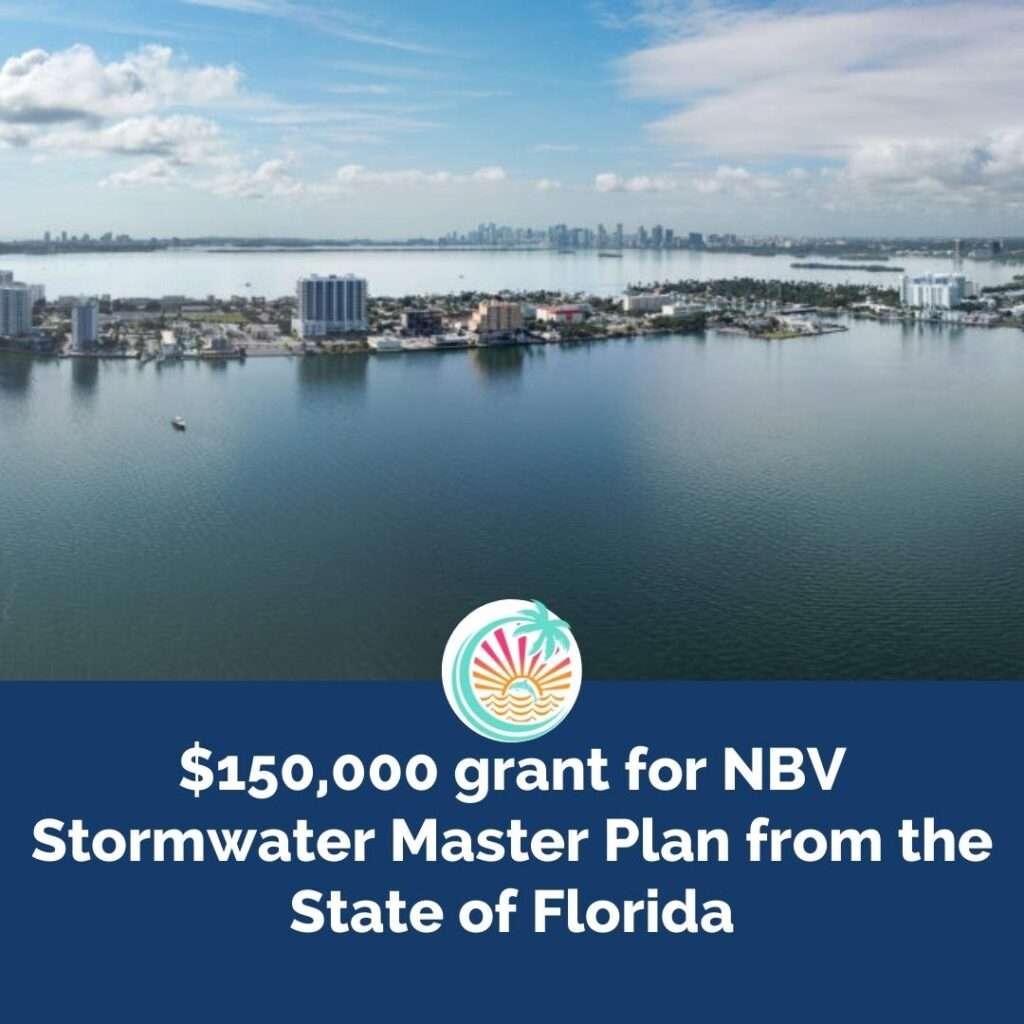 We are pleased to share NBV is the proud recipient of a $150,000 grant from the state of Florida for our "Vulnerability Assessment and an Adaptation Plan." This grant will help North Bay Village's efforts to protect residents' most valuable asset–their homes, by investing in the stormwater project. In just a few months, 2022 is already the most successful grant year in Village history.
$850,000 grant – largest recreational grant in Village history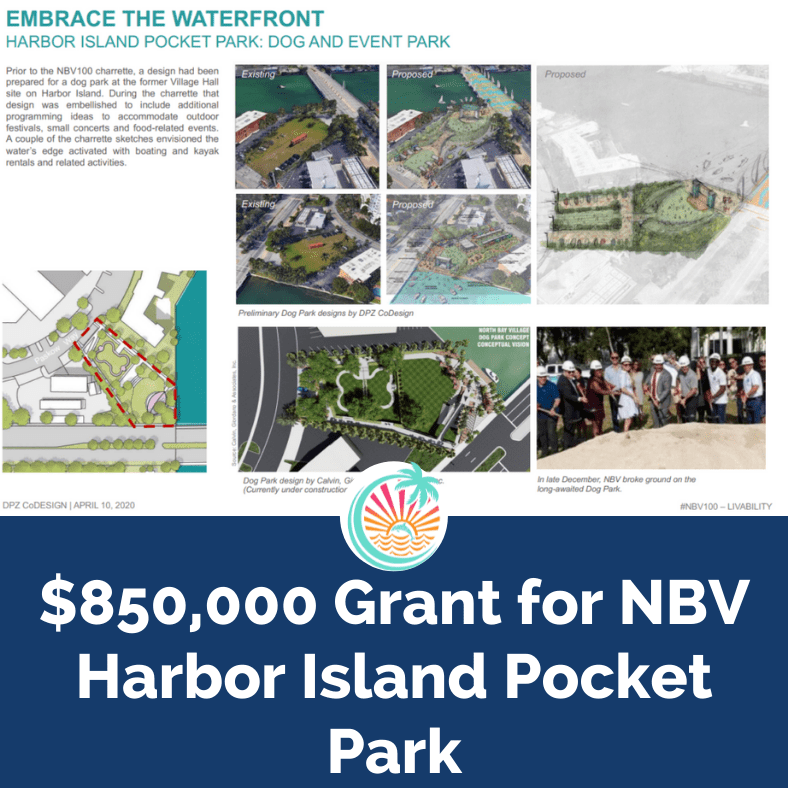 We are happy to announce the Village will be the proud recipient of an $850,000 grant from the Florida Department of Environmental Protection (FDEP) Land and Water Conservation Fund– the largest recreational grant in Village history!
In January 2021, the Village applied for this FDEP grant to further beautify and develop the Village's civic/dog park on East Drive in Harbor Island. Potential project components include lighting, additional landscaping, benches, a nature trail, development of the waterfront area, a performance space, and more. The project was ranked #6 in the State of Florida. Today, we learned that the Village will be receiving the full $850,000 grant based on our submission.
Over the next few months, there will be an opportunity for Commission and public input on the use of the grant dollars. Stay tuned!
Cutler Bay Expands Tree Canopy in Town Through Neat Streets Miami Tree Matching Grant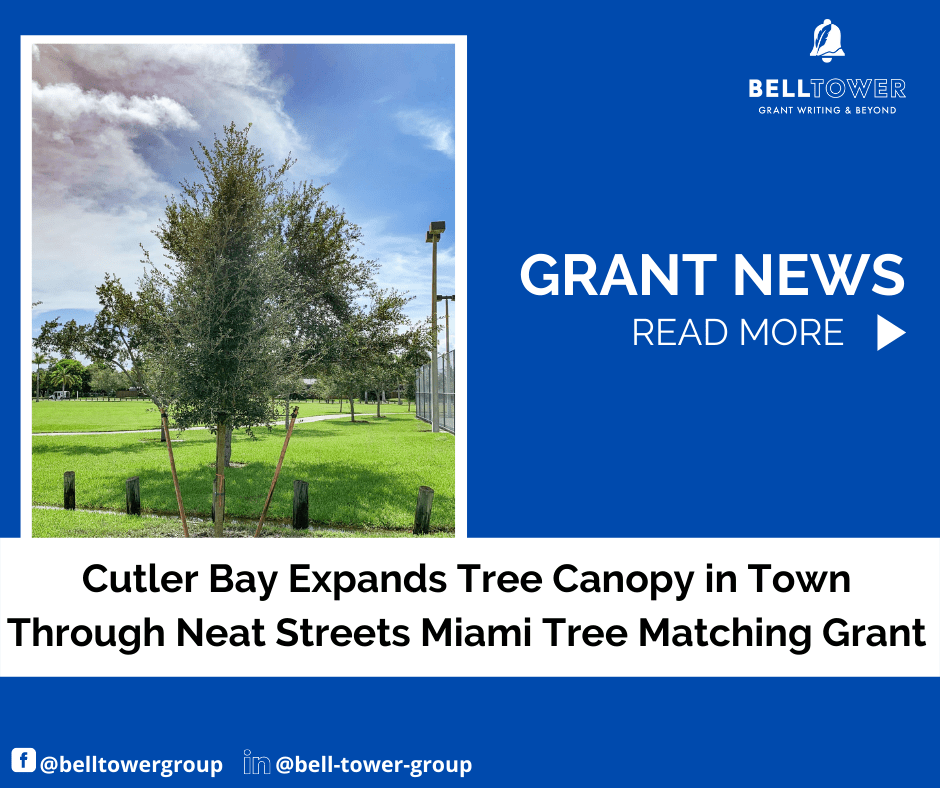 In an effort to expand Miami-Dade County's tree canopy by leveraging local resources, Neat Streets Miami awarded the Town of Cutler Bay a Street Tree Matching Grant for a tree planting project around the Saga Bay community in the amount of $20,475.
In its sixth year, Neat Streets Miami's street tree program awarded 15 organizations matching grants to advance the Million Trees Miami initiative, a community-wide effort to achieve a 30 percent tree canopy for Miami-Dade County.
CUTLER BAY: A Community for All Ages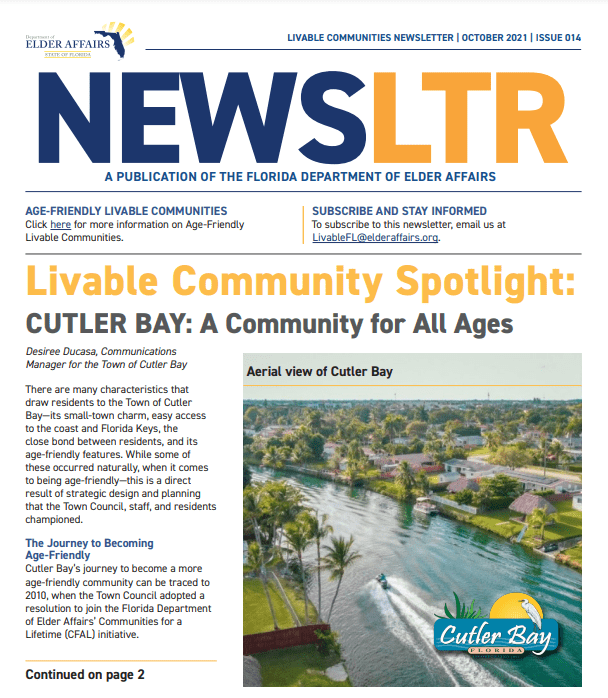 There are many characteristics that draw residents to the Town of Cutler Bay-its small-town charm, easy access to the coast and Florida Keys, the close bond between residents, and its age-friendly features. While some of these occurred naturally, when it comes to being age-friendly – this is a direct result of strategic design and planning that the Town Council, stagg, and residents championed.
LaborMiami.org presented as preferred workforce and business resource for Greater Miami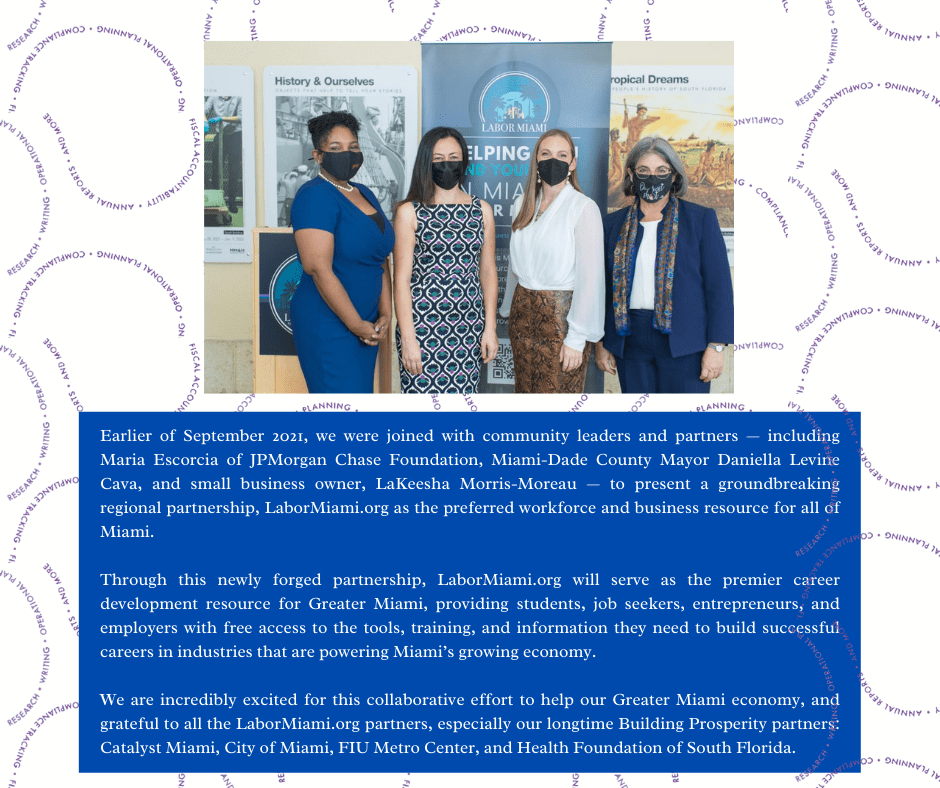 Yesterday, we were joined live at HistoryMiami Museum by community leaders and LaborMiami.org partners — Maria Escorcia of JPMorgan Chase Foundation and
Miami-Dade County Mayor Daniella Levine Cava — to announce a groundbreaking regional partnership. Joining forces in the mission for an inclusive, thriving local economy, we are excited to announce a regional partnership between Miami-Dade County and the City of Miami, formally presenting LaborMiami.org as the preferred workforce and business resource for all of Miami.
Through this newly forged partnership, LaborMiami.org will serve as the premier career development resource for Greater Miami, providing students, job seekers, entrepreneurs, and employers with free access to the tools, training, and information they need to build successful careers in industries that are powering Miami's growing economy. The partnership will see regional presentation of the portal, increased visibility, and will ultimately lead more residents to leverage these available workforce resources.
"LaborMiami.org brings together dozens of community resources into a single space, to help all Miamians find their pathway to economic success," said The Miami Foundation CEO Rebecca Fishman Lipsey. "By providing both user-friendly labor market data, and access to critical wrap around services, we're committed to building a Miami that works for everyone."
We are incredibly excited for this collaborative effort to help our Greater Miami economy, labor market, and workforce prosper. Immense gratitude to all the LaborMiami.org partners who have poured their energy into this critical community resource, especially our longtime Building Prosperity partners: Catalyst Miami, City of Miami, FIU Metro Center, and Health Foundation of South Florida.